Welcome to ARCHIPELAGO
part 4 of NEON RUN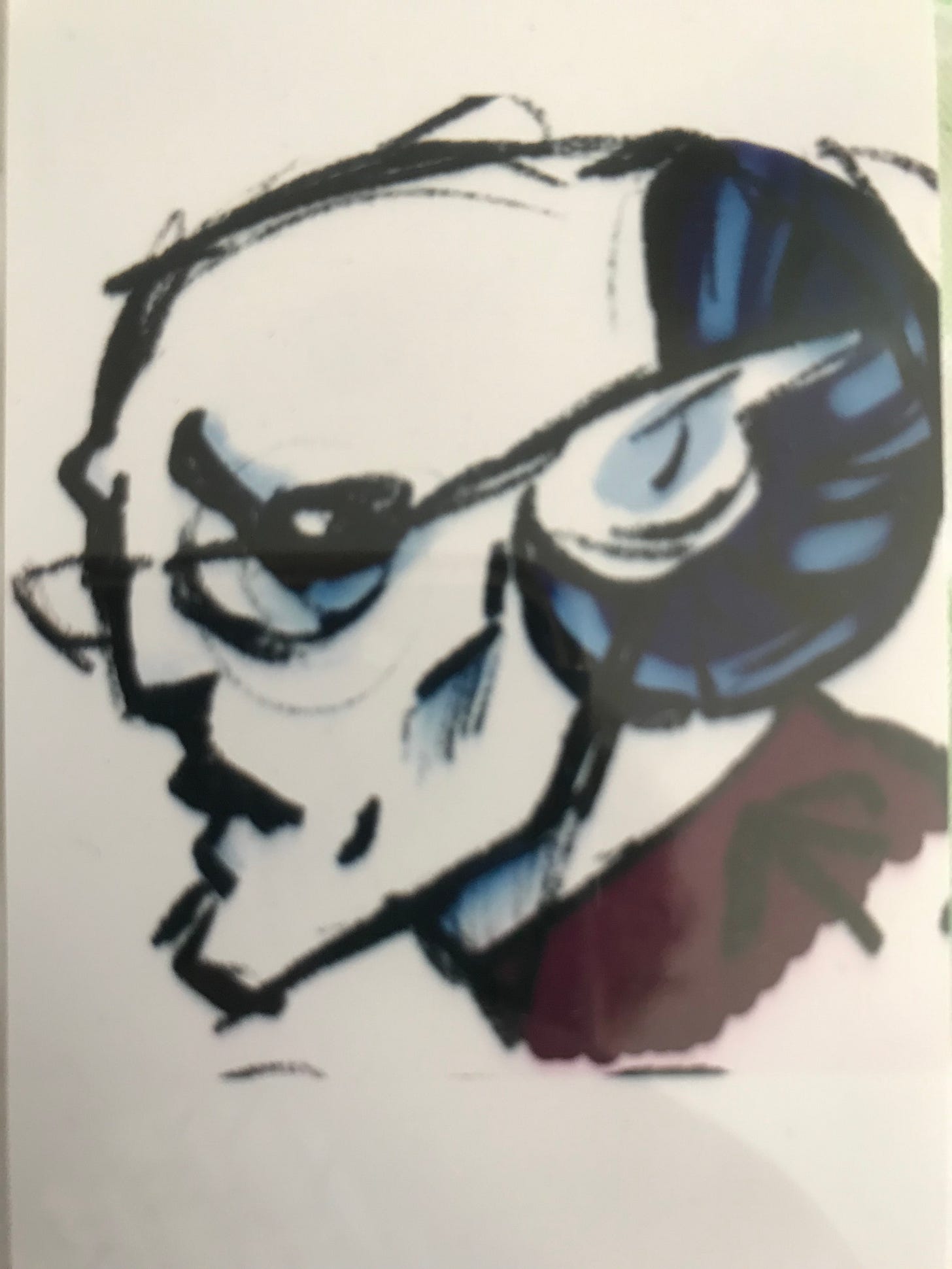 Since we all need some extra entertainment right now, this week I'm doing a serialized release of my screenplay NEON RUN. This is Part 4.
---
INT. THE REDACTED - HALL - LATER
Howie, with a gas mask on, scoops up the pink stink-bomb goop and slops it into a bucket.
Zoe comes in behind him, also putting on a mask. She snaps on rubber gloves and scoops up some goop.
ZOE

Shit, you can still smell it through the mask.

HOWIE

I know.
They clean for a moment.
ZOE

You just need to find your own thing, kid.

HOWIE

That sounds like something you read on the back of one of Lyllywight's books.

ZOE

It was. And you know what, forget it, I'm still mad at you.

HOWIE

I'm still mad at you.
Behind them, Lyllywight chases Messy down the hall—
Messy hits the bucket of goop, spilling it on Zoe and back across the hall. Zoe GROANS. Howie GIGGLES.
INT. REDACTED - STAIRS - LATER
Agnezz walks into the stairwell and trudges a few steps up the spiral staircase. She stops dead when she sees Veda sitting on the steps in front of her.
Veda's visibly distressed, her malfunctioning tablet on her lap. She mumbles under her breath.
AGNEZZ

Uhh... you okay?
Veda jolts with surprise.
VEDA

I'm fine, I just can't get this idiotic technology to work— it worked long enough to show me that all trade to Melkia has been halted, but!
She takes a deep breath and regains composure.
VEDA

Agnezz, I want apologize for earlier. I truly had no intention to pry into your affairs, and I am sorry that I spread your private matters.
Agnezz shrugs.
AGNEZZ

S'fine. I was gonna delete it anyway.

VEDA

It's been a bad experience?

AGNEZZ

Ever had someone on a first date ask how your... sensitive cyborg anatomy works?

VEDA

Oh.

AGNEZZ

I'm not exactly fairytale material.
Agnezz shrugs and passes Veda on the stairs.
INT. THE REDACTED - COCKPIT - DAY
Zoe sits on top of the cockpit control panel, peering out the windshield as she guides Lyllywight.
ZOE

A little lower. Ease up on the bow.
Veda enters, looking at the clear blue sky outside.
VEDA

Where are we?
Zoe hops down and straps on her holster.
ZOE

We're at Archipelago, just a quick fuel stop.

VEDA

Oh, I love Archipelago, can't I slip out?

ZOE

Aren't you supposed to be in hiding, fugitive?
Howie and Agnezz slide down the pole, Stenzrood following.
HOWIE

I can't wait to get off this toilet.

ZOE

Hey! I am the only one getting off this ship.
CUT TO:
EXT. ARCHIPELAGO - MOMENTS LATER
Zoe stands on the grassy planet, her hands on her hips.
Behind her stands the rest of the crew.
HOWIE

This place is amazing!
Zoe grabs his collar before he can rush off.
ZOE

Ground rules: One, be back at the ship as soon as we're done fueling. Two, the gravity is weird here. You're responsible for your own barf. Three, don't die.
Howie nods dutifully.
ZOE

Ok, get out of here.
Agnezz turns on her jetpack and she and Howie immediately jump, Stenzrood floating after them.
CUT TO WIDE:
Zoe stands on a tiny planet, perhaps a few yards in diameter.
Surrounding them are other tiny planets, and far, far below a large planet. The planets are colorful, with bright booths and decorations. A gorgeous trucker stop in the sky.
Howie lands on one of the other little planets, adjusts to its gravity, and then continues away, Agnezz following along with her jet-pack.
LYLLYWIGHT

I'm going to see if I can figure out what to do with this little guy. Need anything?

ZOE

Nah, I'll take care of the fuel.
Lyllywight steps down carefully, holding Messy like a lit bomb. Messy CROAKS happily.
Zoe glances behind her to Veda, and then walks around to the other side of the tiny planet—
Only to meet Veda, coming toward her from the other side. They both jolt with surprise.
Between them is a ladder, connected to another planet.
VEDA

I was hoping you could help me with my tablet.

ZOE

Okay. While we're fueling.
Zoe climbs up the ladder, switching halfway through as the gravity switches so that she climbs down to the other planet.
Veda follows.
EXT. ARCHIPELAGO - GRASSY PLANET - LATER
Zoe and Veda sit on a grassy little planet. Behind them, winged creatures fly a fuel line up to the Redacted.
Beyond stretches the archipelago of planets, glistening in the colorfully hazy atmosphere.
Zoe holds her hand out. Veda hands her the tablet.
For a moment they sit in silence while Zoe works. She opens up the back of the tablet and delicately moves around some wires.
VEDA

Remember when we stopped here after that festival on Bergburn?

ZOE

Probably not very well.
Zoe focuses hard on connecting tiny wires, then snaps the cover back onto the tablet and turns it on.
ZOE

There you go. Just a little short in the monitor—
She stops speaking, her brow furrowing as she reads the tablet screen.
ZOE

(gesturing to the tablet) Why are we going to Melkia if you don't have sanctuary there?
Veda winces.
VEDA

I was going to tell you.

ZOE

So when I asked earlier if anyone else had anything they were hiding from me, you didn't think to bring up the fact that we potentially can't even go to our destination?

VEDA

I just didn't know if...

ZOE

If what?

VEDA

If I could trust you.
Zoe nods.
ZOE

I get that. I mean it's my fault.
Veda isn't sure what to say.
ZOE

My fault for thinking you were capable of giving me a second chance.

VEDA

I am giving you a second chance!

ZOE

Are you?

VEDA

I'm here with you, aren't I?

ZOE

Yeah, about that! Why?!

VEDA

You know there is a lot more to this than you and me.
Zoe stands.
ZOE

Do you know how worried I've been that because you're here I'll relapse or slip or—

VEDA

That's not fair, I am not why you drink—

ZOE

I don't drink anymore! Do you not get that?

VEDA

I cannot believe you, Zoe! You let secrets slip when you were drunk. You put me in danger. How on earth can you make this my fault?

ZOE

It's not, it's my fault! I know that! I live with all of stupid shit I did. You don't think that every time I look at you I think about what a great thing I ruined? But I've change. And I'm trying so hard now. Why can't you see that?
The silence hangs heavy.
VEDA

I do see it, Zoe.

ZOE

Then can't you trust me?
Veda looks up at her.
VEDA

I don't think I can. It's too much of a risk. There is more at stake here than... us.
Zoe nods, though still angry.
ZOE

Fine. Okay. But everything's out in the open now, right? No more secrets that could impact your safety? Because you are paying me for that.
Veda waits a bit to answer.
VEDA

No more secrets.

ZOE

Good.
She trudges off.
EXT. ARCHIPELAGO - SHOPPING PLANET - CONTINUOUS
An outdoor market wraps around the small planet.
Howie talks with some aliens at a booth, while Stenzrood tries out a high-tech sword at another.
Agnezz, at another stand, hooks some cords up to her metal arm and takes a look at a booth selling VR visors.
Ahead of her, Lyllywight talks with an official.
LYLLYWIGHT

You're saying he can't go back to Solzar?

OFFICIAL

No. He's disconnected from the hive mind. He'd most likely be executed.
Lyllywight sighs. Messy hops on top of his head and holds onto his horns. Lyllywight slowly backs up.
LYLLYWIGHT

Thank you anyway...
Howie and Agnezz join him.
HOWIE

You're trying to get rid of him? How could you?!
Messy CROAKS as Lyllywight carefully takes him off his head.
LYLLYWIGHT

I was just seeing if he needed to go back home.

HOWIE

He needs to stay with us! You can be his dad!
Lyllywight holds Messy away from the conversation.
LYLLYWIGHT

Hush! I am not prepared to take this on. I could kill him!

HOWIE

You haven't killed me yet, and I'm very annoying.

LYLLYWIGHT

I suppose that's true.

HOWIE

And look at me now! Look at this cash I brought in.
Howie holds up a bag.
LYLLYWIGHT

Please tell me you didn't steal that.

HOWIE

No, of course not! Zoe said I needed to find my own thing and I thought I'm pretty good at this business stuff, so I sold some of Zoe's ammo.

LYLLYWIGHT

Did you ask her about that?

HOWIE

No, but she's wanted to sell her stupid "designer ammo" for ages. Don't worry about it!

LYLLYWIGHT

I'm not sure that's... Where'd Agnezz go?

HOWIE

She was right here—
They look back. Behind them, Agnezz stands awkwardly while a human male talks to her. He's tall, muscular, handsome— a Chris Hemsworth/Evans/Pine adonis of a man. With a grin, the Chris hands her some of the fruit he's selling.
LYLLYWIGHT

What a handsome homosapien.
They stand, stupefied. Agnezz trudges over to them.
HOWIE

Who was that?!

AGNEZZ

No one.
Agnezz leans over and braces herself on her knees, breathing deeply.
LYLLYWIGHT

Are you alright?

AGNEZZ

Let's get back to the ship.
Agnezz breaks into a run, Stenzrood shooting itself like a squid after her.
EXT. THE REDACTED - LATER
Zoe sits on the edge of the landing ramp, her legs dangling. Agnezz comes running, launching herself onto the ship— Zoe scrambles out of the way.
ZOE

Whoa, slow down! What's going on?
Agnezz leans over, breathing heavily.
AGNEZZ

I think my heart is malfunctioning.

ZOE

Your breathing is shallow. Maybe your lungs overheated?
Agnezz shakes her head, breathing faster. Zoe gently sits her down and looks at a readout panel on Agnezz's back. The others clamber up onto the ramp.
ZOE

What happened?

HOWIE

She was talking to a man.

ZOE

Let's take off. She needs space.
Lyllywight nods and pulls Howie and Stenzrood into the ship.
INT. THE REDACTED - HALL - CONTINUOUS
Zoe walks Agnezz up into the ship as the ramp closes.
AGNEZZ

Am I broken?

ZOE

No. Your heart's beating pretty fast but that's it.
Agnezz nods, her hands shaking.
ZOE

Take a deep breath. We can sit here for a while. Did something happen with that guy you were talking to? Did he say something to you?
Agnezz shakes her head.
AGNEZZ

Something about him made it feel like all of my internal parts went haywire. Like when he smiled.
Zoe catches her laugh, trading it for a kind smile.
ZOE

Was he nice?
Agnezz nods.
ZOE

Did he give you that?
Zoe gestures to the mostly crushed fruit in Agnezz's hand.
AGNEZZ

Yes.

ZOE

Let's get you some water and you can tell me about this guy. I mean, if you want to keep it private, I—

AGNEZZ

I want to talk.
Peering from a doorway, Veda watches Zoe as she and Agnezz walk up the stairs.
Veda pulls the SMALL, BLINKING DEVICE out of her pocket.
To be continued…