Welcome to THE REDACTED
part 2 of NEON RUN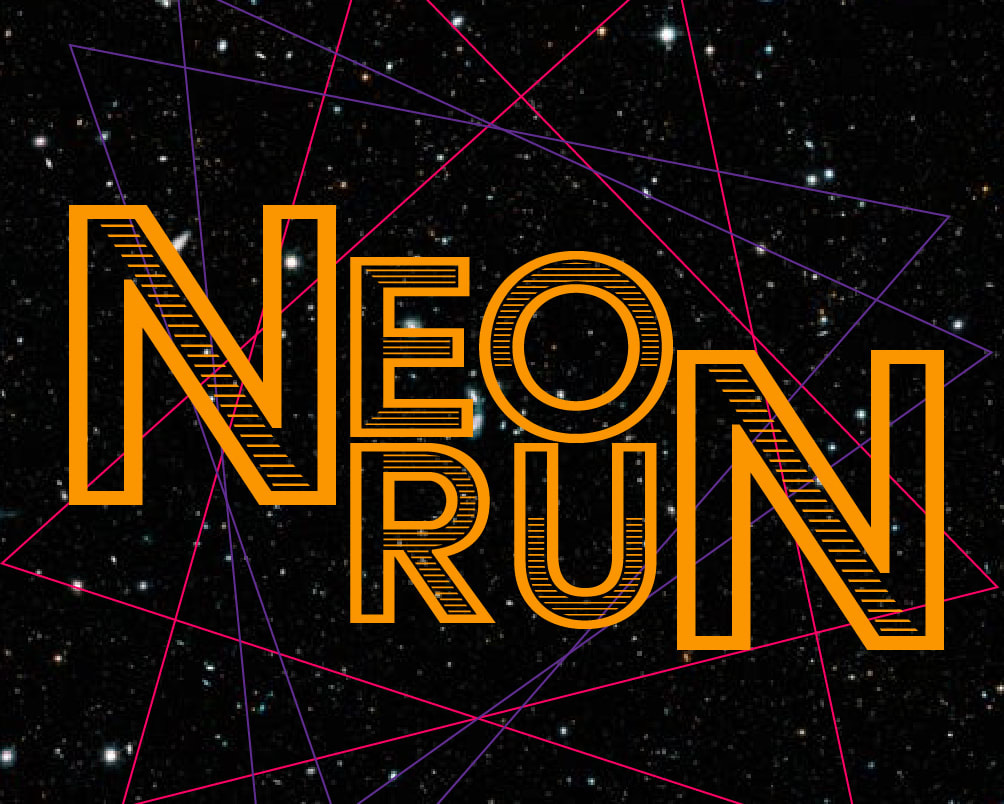 Since we all need some extra entertainment right now, this week I'm doing a serialized release of my screenplay NEON RUN. This is part 2. If you missed part 1, or need a refresher, you can find it here.
---
INT. HIDEOUT - LATER
Zoe stands in the doorway and rips off her helmet.
LYLLYWIGHT

What's wrong?
Stenzrood COOS and Agnezz lifts up her visor. Howie, oblivious, spins around in his chair.
HOWIE

Hey, guess what?! That queen you always watch on the news? Queen Veda? Of Milky-yum or whatever? She just booked a job with us!
Lyllywight drops his book.
HOWIE

What?
Zoe drops her helmet and stomps toward a ladder in the back of the hideout.
ZOE

I need some air.
Howie runs after her with his tablet.
HOWIE

You should see what she's paying!

ZOE

I don't want to see it, Howie.

HOWIE

What'd I do? Should I cancel it?
Zoe snaps back around.
ZOE

Well, it's too late for that now!

HOWIE

No it's not, we back out on things all the time!

ZOE

Just... It's grown up stuff, kid.

HOWIE

I'm your business manager. I'll manage it!

ZOE

I'm in charge, Howie. Just shut up.

HOWIE

So I do have a fake job!

ZOE

Look, kid—

HOWIE

I am not a kid!

ZOE

Yes, you are! Just—
She looks at his face and quiets her tone.
ZOE

Just take care of logistics. We're leaving in the morning.

HOWIE

I can never do anything good enough for you!

ZOE

Geez, same here!
Zoe climbs the ladder.
HOWIE

You know, I'M the one going through puberty!
Lyllywight appears behind Howie and gently puts a hand on his shoulder. Howie pushes it off and stomps away.
EXT. HIDEOUT ROOF - NIGHT
Zoe lies down on the roof, staring up at the multicolored gas and hazy lights filling the narrow canyon.
She closes her eyes and pounds her fists against the roof as if to get all her anxiety and rage out—
A deep breath.
Two.
Zoe opens her eyes and hugs herself tight.
A drone flies above her with a streak of white light.
EXT. JYNX SPACEPORT - DAY
The doors of the spaceport open and Veda walks in, dressed in stark white and veiled for disguise. She's flanked by guards, who part the bustling crowd.
Zoe leans against the ramp to her ship, the REDACTED. It's large, with curved lines and glass viewports. Howie sits on the ramp next to her.
ZOE

(to herself) Discreet.

HOWIE

(continuing from earlier) And furthermore, being your business manager means I don't even get to do the cool stuff. Like isn't that the point? I'd rather be stealing things!
Zoe walks toward Veda, leaving a miffed Howie.
ZOE

Welcome to The Redacted.

VEDA

Cute. Because it's stolen?

ZOE

That's a harsh word.
Zoe gestures to Veda's guards.
ZOE

You're not bringing these two barrels of joy, are you?

VEDA

I don't travel without my guards.

ZOE

I'm sorry, let me rephrase. You're not bringing these two barrels of joy. I thought Howie covered this with you.

VEDA

Do I need to remind you that I'm in extreme danger?

ZOE

That's exactly why I don't want them. I only agreed to take you.
Veda glares at Zoe.
VEDA

I'm already regretting this.

ZOE

I'm flattered.
Zoe waits while Veda talks quietly to her guards.
Veda secretively hands them a SMALL, BLINKING DEVICE.
The guards exit. Veda hands Zoe her luggage.
Zoe just sets it down. Howie comes down the ramp.
ZOE

Howie will take it from here.

VEDA

(to Zoe) He's... very young.

ZOE

He pickpocketed me five years ago and I kept him around as a pet. Funny, isn't he? Very well trained.
Howie glares before sweeping into a bow.
HOWIE

An honor to have you here, my queen. It's been a pleasure doing business with you thus far.

VEDA

If only your captain were as polite as you.

HOWIE

She's a lost cause.
Howie grabs Veda's luggage and continues chattering as they head up the ramp.
INT. THE REDACTED - HALL - CONTINUOUS
The ship has what used to be stylish gray interiors, patched up with junkyard pieces and neon wiring.
Zoe waits strategically until Howie and Veda are out of sight.
She walks down the hall, where Stenzrood hangs from the ceiling, working on repairs.
ZOE

What's up?
Stenzrood HISSES as Veda comes back down the hall.
ZOE

She's a client now. Be nice. (to Veda) Do you need something?

VEDA

You're confident this ship will get us where we need to go?
Zoe reaches up into the wiring Stenzrood is working on, gesturing for a tool.
ZOE

Ouch!
Sparks fly out of the hatch and Zoe quickly pulls out her hands.
ZOE

(to Stenzrood) Replace that casing and then make sure the cooling unit here is working.

VEDA

What is the plan? Howard mentioned a neon something.

ZOE

A Neon Run. It's travel the old fashioned way. Planet hopping. Wormholes and hyperspace highways are too regulated, so we use this baby's plasma engine, go through those neon nebulas, and stop at a few planets along the way for fuel.
Howie rushes down the spiral stairs at the end of the hall.
HOWIE

Queen Veda! Your room is this way!

ZOE

You will have to trust me a bit.

VEDA

Isn't there anything I should be worried about?

ZOE

My general lust for revenge. The entire galactic assembly police on the hunt for you. Space slugs. Howie, take the queen to her quarters. Veda, it'll be fine.

VEDA

If you say so.

ZOE

You hired me to say so.
INT. THE REDACTED - COCKPIT - CONTINUOUS
Zoe plops down on the pilot's chair next to Lyllywight. He sets down the book he's reading.
In front of them is a large control panel and windshield. Behind them, more seating, storage, and a fireman's pole.
LYLLYWIGHT

How's it going?
Zoe gazes distantly out the viewport.
ZOE

You know, I think I could lace some drugs into our sleeping ammo. Give people something to dream about.
Lyllywight reaches for his book.
LYLLYWIGHT

If you start with that I'll happily share with you what I've recently learned about the plum-plumed space slug—

ZOE

Look, Veda's the same as ever and I've just gotten better and better with time, so... I'm winning.
A beat.
LYLLYWIGHT

Right.
Zoe puts her head in her hands and drags her fingers down her face.
LYLLYWIGHT

The face of a winner.
Zoe starts performing checks on the ship, Lyllywight joining.
ZOE

That's not a book about space slugs.

LYLLYWIGHT

It's... It's called 'How to be Approachable.'

ZOE

Sweet blazes, just because people sometimes scream when they see you!

LYLLYWIGHT

It's not just that—

ZOE

Let's talk about my hallucinogenic plasma, that's at least a bit cheerful!

LYLLYWIGHT

Is it?

ZOE

It'd be like a little thank you gift to all our victims!
The doors behind them slide open and Veda walks in holding her tablet.
VEDA

Could you help me with this, I have business—
She looks up.
VEDA

(genuine) Lyllywight! It's good to see you.
Lyllywight gently smiles and nods.
LYLLYWIGHT

You as well, your highness. How goes the plight of the ideological hero?
Veda sits behind them and leans against the back of Lyllywight's chair.
VEDA

Not without its sacrifices.
She tries to turn her tablet on. It flashes but then goes black. She gives up.
VEDA

Think we'll have a smooth journey? Zoe seems confident.
Lyllywight glances to Zoe.
ZOE

As long as everything's kept under control and in order—
She moves Veda's leg to reach another switch.
ZOE

Then we'll be fine.
Lyllywight nods.
LYLLYWIGHT

We just need to avoid GAPs.

VEDA

Gaps?
Agnezz slides down the pole and trudges over to her seat.
ZOE

Galactic Assembly Police.

VEDA

You still have nicknames for everything.

ZOE

Not you.
Zoe sits back down and faces the controls.
AGNEZZ

That's not true. We call you—
There's a CRASH from somewhere on top of the ship.
VEDA

What was that—

ZOE

SH!
For a moment they're silent, listening...
A snake-like, segmented robot drops onto the windshield with a CRASH.
ZOE

You've got to be kidding me.
She puts on an earpiece and bracelet— a comm device.
ZOE

(into comm) We've got snakes, folks! (to Lyllywight) We finished fueling?

LYLLYWIGHT

Only about halfway—

ZOE

That'll have to be enough!
Zoe and Lyllywight frantically press buttons and pull levers.
VEDA

What is happening?
The ship lurches upward with a GROAN.
AGNEZZ

Snakes are GAP surveillance bots. GAPs are sure to follow.
Howie and Stenzrood rush into the cockpit. Howie immediately sits and snaps on a seat belt.
VEDA

I swear on the feet of Melkior, Zoe! Are they after you or me?

ZOE

Does it matter? Hold on!
Veda falters as the ship jerks. Stenzrood springs up to balance her out.
Half a dozen more snake-bots land on the windshield.
ZOE

Agnezz, I'm gonna need you outside!
Agnezz shoulders an enormous gun and runs out.
EXT. JINX SPACEPORT - CONTINUOUS
The Redacted jerkily flies up through the spaceport.
Troops of GAPs file in and fire at the ship.
Creatures in the spaceport go running in all directions.
INT. THE REDACTED - COCKPIT - CONTINUOUS
Zoe pilots the ship up the narrow chasm. They snap through wires and lanterns and clotheslines.
Shots of green plasma fly past them—
ZOE

Come on come on come on...
Other ships dive out of their way as Zoe speeds through the canyon.
EXT. THE REDACTED - CONTINUOUS
A hatch opens on the roof of the ship and Agnezz climbs out.
The snake-bots crawl toward her as she stands.
She presses a button on her robotic leg and appendages unfold out, attaching her to the ship.
She blasts the snakes with orange plasma balls.
The bots break and fly backward with a burst of orange.
Agnezz ducks to avoid a street sign and then fires again.
INT. THE REDACTED - COCKPIT - CONTINUOUS
Zoe looks to Lyllywight.
ZOE

Take the wheel. We need to go faster.
Zoe turns a crank on the side of the dash.
ZOE

Come on baby, you can do it!
Howie, sitting next to Veda, grabs her arm as the ship suddenly dips, and then quickly lets go.
ZOE

Stenz, let's make sure all our signals are scrambled.
Stenzrood shoots out into the hallway.
Zoe stands over the control panel, balancing as the ship lurches. She rips open a panel and starts hot-wiring components.
LYLLYWIGHT

(on headset) Jinx Spaceport, this is the Redacted, we're making a rapid ascent, I repeat, we're making a rapid ascent.

RADIO

Copy that, Redacted. Airspace clear. GAPs on your tail; we assumed it was you.

VEDA

How sweet.
Zoe shoves her arm into the opened port, pulls out a snake-bot, and breaks it over her knee, all while staring at Veda.
ZOE

That should help.
EXT. THE REDACTED - CONTINUOUS
Several jet-pack-wearing GAPs land on the roof of the ship as it careens up the canyon.
Agnezz grabs the tail of one of the snake-bots and swings it into the GAPs, knocking them over like dominos.
INT. THE REDACTED - COCKPIT - CONTINUOUS
Snakes EXPLODE off the windshield.
LYLLYWIGHT

Those snakes are laying trackers.

ZOE

Let's get Agnezz back in here!
She looks back at Veda and Howie.
ZOE

Buckle up, we need to lose the trackers in the atmosphere!
EXT. THE REDACTED - CONTINUOUS
Agnezz blasts snakes as the Redacted shoots up to the canyon opening. The yellow-green gas billows around the ship.
Agnezz snaps on a gas mask.
She detaches from the ship and slams herself down against the surface. Fighting against the wind, she drops herself back to the hatch.
She sees a blinking tracker and smashes it as she goes down.
INT. THE REDACTED - COCKPIT - CONTINUOUS
Thick gas obscures the view through the windshield as they burst out of the top of the chasm.
ZOE

Is Agnezz inside?
Agnezz rips off her mask as she storms in.
AGNEZZ

Yup.

ZOE

Let's hit the flames!
Zoe hits a switch—
EXT. THE REDACTED - CONTINUOUS
Flaps on the ship open, sparking and reacting with the gas—
—FLAMES surround the ship.
INT. THE REDACTED - COCKPIT - CONTINUOUS
Fire dances across the windshield. Howie SCREAMS.
EXT. THE REDACTED - CONTINUOUS
The Redacted flies up and away from the planet. The now-burnt trackers and snake-bots spark and fall off the ship.
The flames flutter away.
INT. THE REDACTED - COCKPIT - CONTINUOUS
HOWIE

What the blazes just happened?

ZOE

Always be the first to cause an explosion, kid. Lyllywight, where are we headed?

VEDA

You don't know?
Lyllywight pulls down a large computer screen and quickly scans a map.
LYLLYWIGHT

We didn't get to finish fueling before we left, so we're adapting.
He presses a few buttons.
LYLLYWIGHT

Here. Unincorporated planet. We have enough fuel to get there.

ZOE

Native life?

LYLLYWIGHT

Yes, but I'm not getting any details. I'll do some research, but they're private, whatever they are.

ZOE

We'll go for it.

LYLLYWIGHT

Copy that.
Zoe stands and stretches.
ZOE

Not a bad start. Come on Stenzrood. Let's clean up the ship.
Zoe walks out, Stenzrood floating along behind.
EXT. THE REDACTED - CONTINUOUS
The Redacted blasts off into the nebula.
INT. THE REDACTED - COCKPIT - LATER
Only Lyllywight and Veda remain in the cabin. The lights are low as they fly through dark space and the neon lights from nebulas.
Veda presses buttons on her tablet.
VEDA

I still can't get a good connection.
Lyllywight sighs and turns to her.
LYLLYWIGHT

When are you going to tell Zoe that you don't actually have sanctuary on Melkia?
Veda stares.
LYLLYWIGHT

I saw it on the news before we left.

VEDA

That's for me to worry about.

LYLLYWIGHT

You should tell her.

VEDA

She's a liability.
Lyllywight rubs the bridge of his nose, beneath his glasses.
VEDA

I'm worried enough as it is. My people's wellbeing is at stake. And the last think I need is for Zoe to make some drunken mistake—

LYLLYWIGHT

Veda... You need to know that it's not like that anymore.

VEDA

But it was.
She stands, still holding her tablet with its flickering screen.
VEDA

I should get some rest.
She walks out.
INT. THE REDACTED - HALL - CONTINUOUS
Zoe stands at an open wall panel, elbow-deep in wires and grease. She pulls out a snake-bot and throws it on the ground.
She looks up and sees Veda at the other end of the hall, but doesn't say anything. Instead, she puts her arm back into the wires.
VEDA

Can they track us through those things?
Zoe closes the wall panel and then opens the next one.
ZOE

No, they just went into survival mode and burrowed into the ship. Can't have them moving things around.
Veda nods and stays there for a while, watching her.
ZOE

I know this is a good view and all, but do you need anything?

VEDA

No. Excuse me.
Zoe goes back to her work.
Veda pulls out a SMALL, BLINKING DEVICE from her pocket and looks at it as she walks away.
To be continued…