Faces Places
Women in Film History - Profile #5
This is the final installment in a 5-part series celebrating Women's History Month. Click to read the other profiles on Forough Farrokhzad, Lotte Reiniger, Alice Guy-Blaché, and Ida Lupino.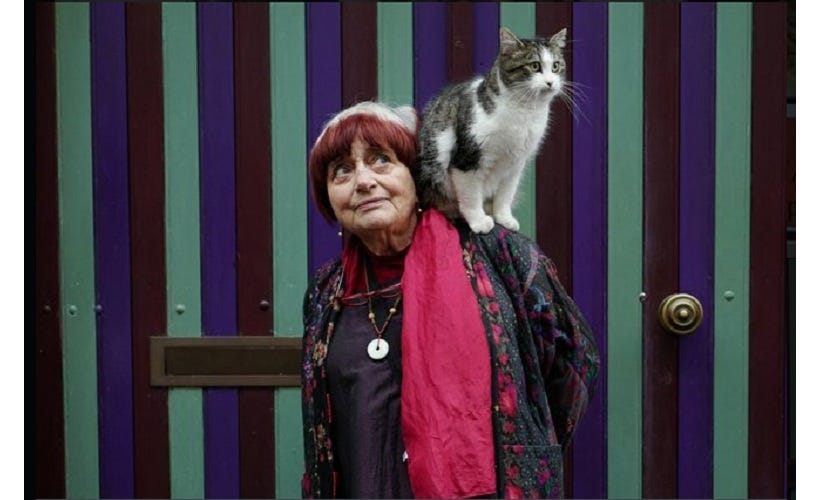 It would be a mistake to go any further without mentioning the legendary Agnes Varda, who passed away earlier today. There will be many great obituaries and pieces about Varda over the next few days that will say more about her than I am equipped to, but what I can say is that she was a trailblazing feminist filmmaker with an enormous sense of humor and even bigger sense of empathy. Her film The Gleaners and I was one of the first I watched in film school, and it radically changed my point of view on filmmaking and life. Here's where you can watch her films.
---
For my last profile I was trying to come up with one last woman to highlight, but I couldn't narrow it down for the life of me. You see, I wanted to highlight a woman who is a current trailblazer—history in the making— and there are simply too many women whose work I am excited about. But all in all, that's an amazing consequence of the women I've already highlighted, and their work breaking down barriers in cinema. So I decided to only narrow down to these three.
Dee Rees
I first saw Dee Rees's work at the Sundance Film Festival in 2017. I managed to get in last minute to a screening of Mudbound, along with some friends who were fellow volunteers. The film utterly took my breath away. After the film and her Q&A, I walked out of the theatre in a stupor. A volunteer, whom I had never met or spoken to, approached me. "You just saw Mudbound," she said with understanding, and then gave me a big bear hug. This triggered something, and for a few minutes me and my volunteer friends ended up hugging and talking softly about the film. I often tell this story for its humor, but the moment sticks out to me in a way that is much larger than that. Mudbound was a film that moved me and a stranger to a place of such empathy and understanding that we hugged in a theatre lobby, and took the time to say kind things and see each other as humans.
Written by Dee Rees and Virgil Williams, and based on the novel by Hillary Jordan, the film follows two soldiers— one black and one white— as they return from WWII to their homes in the Deep South. Bound together by their trauma, they spark up a friendship, but find the entrenched racism in their home inevitably harms them and their families. Mudbound moves like it's water, sometimes gently running over you with its warm poetry and beauty, and at other times hitting you with the full, lethal force of a waterfall. Rees utilizes mesmerizing voice-over monologues to transition between characters and perspectives— from white family to black family and from old generation to new. Under her direction, the performances are filled to the brim with authenticity and power. Rees was also sure to provide other opportunities for women; the cinematography by Rachel Morrison earned the first ever cinematography Oscar nomination for a woman, and the score was composed by Tamar-Kali, making her one of the 1.3% of female film composers. Overall, the film never compromises itself for a racial reconciliation fantasy, instead grappling with the hard truths of what it means to live in America and reckon with its racist history. It's a masterpiece.
Rees' previous film, Pariah (about a young black lesbian woman learning to embrace her sexuality), was also Sundance breakout, and Mudbound should have marked her entrance into the mainstream lexicon (Netflix bought the film for a record sum but did a rather poor job of marketing it). However, Dee Rees will undoubtedly make herself known with her next film, The Last Thing He Wanted— the adaptation of a Jane Campion novel starring Anne Hathaway, Willem Dafoe, and Ben Affleck, which is slotted to come out later this year.
Gina Rodriguez
Gina Rodriguez may seem like a strange choice as her work thus far has primarily been as an actor. But it's easy to see that she's going to be a mover and a shaker. I fell in love with Rodriguez's acting almost immediately— she fully inhabits her characters and lets their emotion spill out. Her title role in Jane the Virgin has been a tour-de-force performance, and one that only continues to get better as it goes and the layers of the character grow more complex. Consequently, it's been absolutely thrilling to see her directing episodes of Jane as well.
This week's episode of Jane the Virgin, the season premiere, had me convinced that I was watching a major player in the making. (I AM ABOUT TO DROP MAJOR SPOILERS FOR JANE THE VIRGIN, PROCEED WITH CAUTION!)
After discovering that her husband, Michael, has not in fact been dead for four years but was instead kidnapped and treated with electro-shock therapy to induce extreme amnesia and is now a weird Montana rancher who goes by Jason, Jane, understandably, has a bit of a breakdown. She's joyful that her husband is alive, but mourning the fact that he's a completely different person who doesn't remember her, and trying to figure out how to hang on when his reappearance upends everything. This leads to a nearly 7-minute monologue in the middle of the episode. If you're not familiar with Jane, a monologue is not typical of the show— it generally moves very quickly, and bounces between storylines often. But a monologue is needed to express the myriad of emotions Jane is experiencing. This episode was directed by Rodriguez, meaning she directed her own monologue, and the results are astounding. Done as a long take, Rodriguez delivers the monologue with no cuts to fall back on. The camera movement serves as a sort of pseudo-cut in that it starts close, moves quickly, and then follows her to a wide depending on where she is on the set. On top of that, Rodriguez's frantic performance jumps between moods and topics so quickly that it still feels like the show (Read this Kathryn VanArendonk piece for more). This seven minutes is such a stunning piece of television that I'm convinced that Gina Rodriguez is going to make some waves in the industry. I'm excited to see what she does next.
Josephine Decker
I was first introduced to Josephine Decker's work at the 2018 Sundance Film Festival (notable that an independent film festival is cultivating this kind of talent!), when I saw Madeline's Madeline. I walked into the screening completely cold— it happened to be at a venue close to where I had lunch, so I just glanced at the title and then got in line. I'm so grateful I ended up there.
Watching the film was a transcendent experience, and like nothing I had experienced before. This avant-garde film, born out of collaborative acting, stretched what film can do in terms of narrative structure, perspective, and collaboration. It is incredibly inventive visually; the cinematographer, Ashley Connor, held the lens away from the camera to create images that moves in and out of focus, and the marvelous masks make the film surreal. The ending, a monologue and musical number that defy explanation, is joyous. The film is an intense look at Decker's own creative process, and the guilt she feels as a director in borrowing from her collaborators and taking from them emotionally— and, most importantly, it is a stunning debut for young actor Helena Howard. It is an experimental film, and I will not pretend that it's for everyone. But Decker expanded my idea of what film can do, and that is an invaluable gift.
Decker has been working in indie cinema for a while now, getting some recognition at festivals for her previous films Butter on the Latch and Thou Wast Mild and Lovely. At Sundance, I really appreciated her candor as she discussed what it's like to be a true indie filmmaker: waiting for funding, constantly working side-gigs, and having your parents or friends end up being executive producers. But like Dee Rees, Decker is heading into a more mainstream arena this year with her film Shirley (about novelist Shirley Jackson of The Haunting at Hill House fame, starring Elizabeth Moss and Michael Stuhlbarg)— though I hope we still get a healthy dose of her experimental edge.
Thank you for going on this journey with me for Women's History Month! As ever, if you have comments or questions, or want a movie recommendation, reply to this email or tweet me at @merrittmecham.